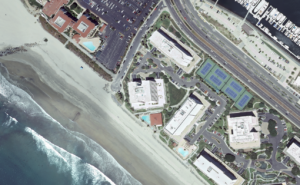 Patricio Francisco Pasquel Quintana purchased Unit 108 at 1720 Avenida del Mundo in Coronado, California for $2,050,000 in August or September 2012 (the seller signed the deed on August 16 and the deed was filed with the San Diego County land records office on September 13, 2012). Patricio Francisco Pasquel Quintana borrowed $1,435,000 from HSBC Bank USA against the condo on September 12, 2012.

La Sierra 108 LLC, which was wholly owned by Patricio Francisco Pasquel Quintana, acquired Unit 108 at 1720 Avenida del Mundo about three months later, on December 27, 2012. Patricio Francisco Pasquel Quintana signed a declaration on the December 2012 deed that La Sierra 108 LLC was "wholly owned" (see below).

The condo was valued at $2,260,248 for tax purposes by San Diego County as of June 30, 2018.
Patricio Francisco Pasquel Quintana is a top-rated Mexican equestrian show jumper who qualified to compete in the September 2018 World Equestrian Games in Tryon, North Carolina.
Documents:
ChedrauiLeaks.org has noticed that the media in Mexico contains very little information about the business dealings and personal assets in the United States of what could be termed Mexican elites, wealthy business people and politicians. ChedrauiLeaks is not stating that members of the Chedraui family or its businesses had any involvement with La Sierra 108 LLC or this condo unit.