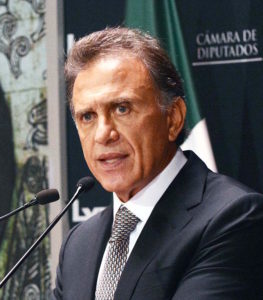 Mexico City, November 22, 2018 – Only four weeks after election day in Veracruz this year – when Governor Miguel Angel Yunes Linares saw his son's effort to succeed him fail – a new Florida company was created designating Yunes Linares's wife Leticia Marquez as one of its two managers.
The registration for the company, "Overlook Place LLC," did not name any owners of the company and it did not provide a purpose for the company's existence, ChedrauiLeaks noted. Overlook Place LLC provided as its office address the oceanside condominium tower where Yunes Linares and his wife have owned a unit for years. It also named "Omar Marquez" who ChedrauiLeaks believes is their son, Omar Yunes Marquez, as its second manager.
A Florida business and tax attorney filed the articles of organization for Overlook Place LLC on July 27, 2018. The lawyer was described as "specialized in international and cross-border transactions, with a focus in recent years on Latin America" and "fluent in Spanish" by her law firm.
The same attorney is a registered agent for a separate Florida company managed by Omar Yunes Marquez (named La Gamba Restaurant LLC) according to its most recent report to Florida (April 2018).
The "principal office" for Overlook Place LLC was identified as "Apt 311" at 1155 Brickell Bay Drive in Miami Florida, leaving off one of the numbers for Unit 3111 which has garnered public attention as the property of Miguel Angel Yunes Linares and his wife Leticia Isabel Márquez Mora, which they bought in 2001. There is no unit "311" at the seaside tower.
Miguel Angel Yunes Linares's term in office will end November 30, 2018.
ChedrauiLeaks.org has made documentation available on its website at:
http://chedrauileaks.org/yunes-florida/
About ChedrauiLeaks.org
ChedrauiLeaks.org is a project of the United Food and Commercial Workers, to investigate the connections between the Chedraui family and other Mexican elites as well as their links to business and property in the United States, the business and political activities of Mexican elites generally, and provide information about the struggle of El Super workers for a better life. ChedrauiLeaks is not stating that any members of the Chedraui family or its businesses had any involvement with the companies or property referenced in this press release.