Yunes family-connected companies plus key associates came to light through 2018 & 2019 activity
September 26, 2019 – New details exposing the business network of the family of former Veracruz governor Miguel Angel Yunes Linares were discovered by ChedrauiLeaks in land registry documents after the $1 million purchase of a Key Biscayne condo and cabana at an exclusive island resort this past summer (2019).  Details in the purchase documents signed by the governor's daughter-in-law Angela Ruiz suggest the Yunes family has connections, companies, and properties for a comfortable life if the family permanently moves to South Florida.
The Yunes family's Florida network came to light after Angela Ruiz, using a newly-formed company headquartered at the Yunes family's long-owned luxury Miami condo, bought a resort-style condo and later a private cabana in Key Biscayne in a gated compound in the summer of 2019. Key Biscayne lies off the coast of Miami as one of the most exclusive islands in the United States – notable people including Cher and President Richard Nixon at one time owned homes there.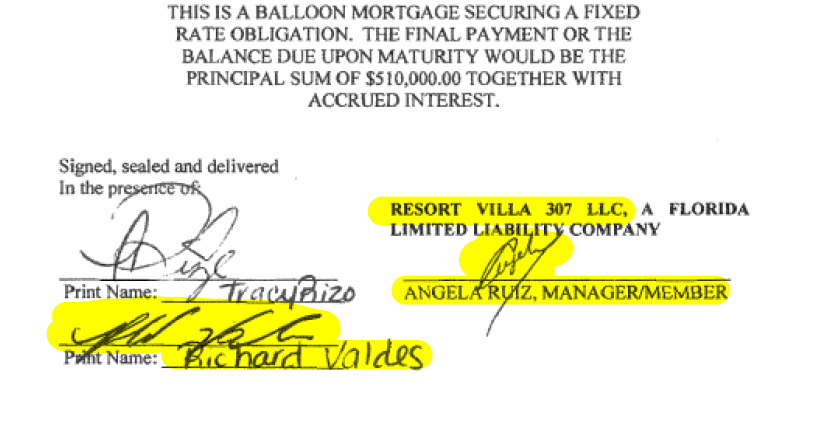 The Key Biscayne purchase records reveal two names that upon closer inspection turn out to have played an important role for the Yunes family in Florida.
First, Jennifer Ruz is an attorney whose name or whose firm's appeared in land records for both Key Biscayne resort real estate deals.  Ruz and her firm also registered at least five Florida companies connected to the Yunes family since 2017.
Second, Richard J. Valdes is a Miami native who signed a loan document for the Key Biscayne condo as a witness to Angela Ruiz's signature at the purchase in May 2019.
Earlier, in May 2018, Richard Valdes, together with Omar Yunes Marquez, obtained business financing from a small south Florida lending company. The purpose of the debt is not publicly available and the page identifying their collateral is missing from the lender's public filing to secure the debt.

The Key Biscayne resort condo was offered up for rent almost immediately after purchase and remained on the market until September 11, 2019 with a $4,800 per month asking price. It is too soon to tell whether the Yunes family found a tenant or whether they decided to keep the condo to themselves.
As for the Yunes family's long-owned luxury Miami condo, Omar Yunes Marquez helped secure the future of that residence by paying $25,400 in delinquent property taxes owed in June 2017 and September 2018.
Separately, in the time since May 2018, Jennifer Ruz registered at least eight companies in Florida in which Richard Valdes was the sole officer.  One of the eight Richard Valdes-connected companies paid $2.8 million for a mansion on Key Biscayne in March 2019 near the resort where the Yunes family bought their Key Biscayne condo and cabana a few months later.
Documents for this release are available at: http://chedrauileaks.org/yunes-florida-2019/
About ChedrauiLeaks
ChedrauiLeaks.org is a project of the United Food and Commercial Workers, to investigate the connections between the Chedraui family and other Mexican elites as well as their links to business and property in the United States, the business and political activities of Mexican elites generally, and provide information about the struggle of El Super workers for a better life. ChedrauiLeaks is not stating that any members of the Chedraui family or its businesses had any involvement with the companies or property referenced in this press release.