On July 24, the lawsuit against Arturo Bermudez Zurita, his wife, and Javier Duarte was scheduled to be dismissed without a court order giving the Veracruz government a claim against any of the Houston-area properties connected to the former Veracruz state police chief. The dismissal will likely occur on September 10 unless lawyers for Veracruz take action by then.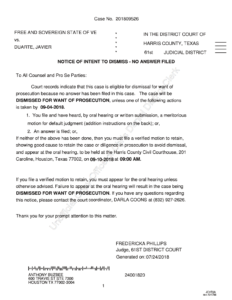 The lawsuit was scheduled for dismissal because the Houston attorneys hired by Governor Miguel Angel Yunes Linares had not yet notified the defendants about the lawsuit in the manner required by the courts.
The judge presiding over the lawsuit wrote that the reason for dismissal was that the defendants had not filed an answer to Veracruz's accusation. Defendants in Texas are not required to file an answer until they receive an official notice of the accusation (Rule 99 – Texas Rules of Civil Procedure).
The Houston attorneys had not provided the court any updates since May when they told the judge they had attempted and failed to personally deliver the notice to Bermudez "at the only known address," a location in Spring, Texas, referring to him as "Arturo Zurita." Arturo Bermudez Zurita has been in prison since February 2017 when he was jailed at the Pacho Viejo prison in Veracruz.

The Houston attorneys also told the judge they had attempted and failed to personally notify his wife, Sofia Lizbeth Mendoza Hernandez, "at the only known address," a different location in Spring Texas.

If the Yunes government wants the case to continue, then its Texas lawyers must serve an official notice to the defendants. After that, the lawyers can ask the judge to rule in favor of Veracruz if the defendants fail to answer (Rule 107 – TRCP).
Otherwise, the Texas attorneys must convince the judge at a hearing on September 10 that there is a good reason to not to dismiss the lawsuit.
Yunes Linares filmed videos in June showing him touring inside two of the four properties identified in the lawsuit. Yunes said he planned to sell the properties to return funds to the people of Veracruz.
ChedrauiLeaks was unable to find any record at the Harris County land record office showing Veracruz's claim against the properties as of August 9, 2018. ChedrauiLeaks has also been unable to find any public sale advertisements for the properties as of August 9, 2018.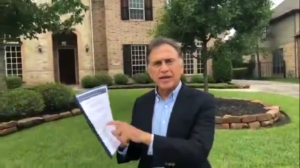 Documents
ChedrauiLeaks.org has noticed that the media in Mexico contains very little information about the business dealings and personal assets in the United States of what could be termed Mexican elites, wealthy business people and politicians. ChedrauiLeaks is not stating that members of the Chedraui family or its businesses had any involvement with any of the defendants, properties, or events described in the lawsuit.