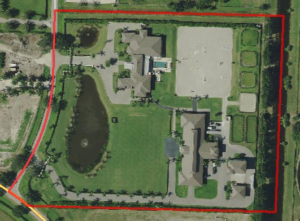 El Milagro Retreat, L.L.C., a Texas limited liability company, purchased four lots in Wellington, Florida for $3,800,000 on April 3, 2014. Two of the lots currently have a street address of 15575 Sea Mist Lane in Wellington. ChedrauiLeaks was unable to find any loans recorded with Palm Beach County for the purchase, and we believe that the purchase is what is known as a "cash purchase."
El Milagro Retreat, LLC sold two of the lots for $5,250,000 on May 3, 2016. The two lots currently known as 15575 Sea Mist Lane had a market value of $7,075,521 for tax purposes as of January 1, 2017 according to the Palm Beach County Property Appraiser.
El Milagro Retreat, L.L.C. told the Texas government it was 100% owned by Inversiones Domus, S.A. de C.V., a company formed in Mexico, as of May 15, 2012.
David Francisco Garza Santos was named President of Inversiones Domus, S.A. de C.V. in 2012, according to the Nuevo Leon public registry. David Francisco Garza Santos is the father of Eugenio Garza Perez.
Eugenio Garza Perez is a top-rated Mexican equestrian show jumper who qualified to compete in the September 2018 World Equestrian Games in Tryon, North Carolina.
Documents:
ChedrauiLeaks.org has noticed that the media in Mexico contains very little information about the business dealings and personal assets in the United States of what could be termed Mexican elites, wealthy business people and politicians. ChedrauiLeaks is not stating that members of the Chedraui family or its businesses had any involvement with El Milagro Retreat, L.L.C., Inversiones Domus, S.A. de C.V., or this property.