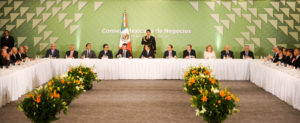 For the first time, ChedrauiLeaks is publicizing an official attendance list signed by about two-thirds of the members of the Mexican Business Council (the Consejo Mexicano de Negocios) for one of its meetings (held Feb. 13, 2014) along with the meeting record.
The meeting record showed the following business leaders were approved as new members:
Don Antonio Del Valle Perochena
Don Juan Ignacio Garza Herrera
Don Eduardo Garza Treviño
Don Héctor Hernández Pons
Don Rafael Moisés Kalach
Doña Blanca Treviño
Don Rolando Vega Sáenz
Antonio Chedraui Obeso, a co-founding director of Grupo Comercial Chedraui, signed the membership list (see below).

ChedrauiLeaks has already published profiles on some US assets we believe were linked to business leaders on the list including: Emilio Azcárraga Jean, Juan Beckmann Vidal, Luis Berrondo Ávalos, Antonio Chedraui Obeso, Antonio Del Valle Ruíz, Agustín Franco Macías, the wife of Juan I. Gallardo Thurlow, Germán Larrea M. V., Alejandro Ramírez Magaña, and members of the Slim Domit family. Alejandro Ramírez Magaña and Juan Beckmann Vidal were named in connection with Trump Tower in New York City.
Click here for the most updated index of names featured on ChedrauiLeaks.
Keep watching ChedrauiLeaks or sign up for email updates for more.
The full attendance list of Mexican Business Council members as found in the Feb. 13, 2014 meeting document is as follows (click here to view the attendance list):
Don Alfredo Achar Tussie
Javier Arroyo Chávez
Don Emilio Azcárraga Jean
Alberto Baillères González
P. Juan Beckmann Vidal
Luis Berrondo Ávalos
Francisco Javier R. Bours Castelo
Don Antonio Chedraui Obeso
Eugenio Clariond Reyes-Retana
Enrique Coppel Luken
Don Antonio Del Valle Ruíz
Valentín Díez Morodo
Pablo Escandón Cusi
José Antonio Fernández Carbajal
Agustín Franco Macías
Juan I. Gallardo Thurlow
Eugenio Garza Herrera
Armando Garza Sada
Claudio X. González
Tomás González Sada
Carlos González Zabalegui
Sergio M. Gutiérrez Muguerza
Roberto Hernández Ramírez
Germán Larrea M. V.
Antonio Madero Bracho
Ricardo Martín Bringas
Luis Orvañanos Lascurain
Fernando Ponce García
Bernardo Quintana Isaac
Alejandro Ramírez Magaña
Adrián Sada González
Don Fernando Senderos Mestre
Daniel Servitje Montull
Carlos Slim Domit
P. Federico Terrazas Torres
Federico Toussaint Elosúa
Eduardo Tricio Haro
Enrique Zambrano Benítez
Lorenzo H. Zambrano Treviño
Lic. Enrique Carrillo Gamboa served as the Council's Secretary at the meeting.