Bernardo Gomez Martinez, the co-chief executive officer of Grupo Televisa, owns a condo in the same oceanfront building in Coronado as his co-CEO, Alfonso de Angoitia Noriega. Bernardo Gomez Martinez, along with an Irish company, Rockangel Limited, purchased 1780 Avenida del Mundo #1004 between September 2000 and May 2001 for $700,000 from Anuar Name.
The company's name was misspelled as "Rockangle" on the grant deed, but the deed of trust confirms its identity was in fact Rockangel Limited.
The Directors' Report for 2001 described Rockangel as dormant, stating that it had not traded during that year. Apart from 2001, however, every Directors' Report filed from 1999-2016 (there were no reports available for 2006 and 2007) states that Rockangel's primary activity was that of a nominee company, meaning that it functioned on behalf of an unnamed entity or person.
Bernardo Gomez Martinez and Rockangel Limited co-borrowed $420,000 on a loan dated April 2, 2001 from Wells Fargo secured by the property. In 2018, San Diego County valued the condo unit at $1.52 million for tax purposes.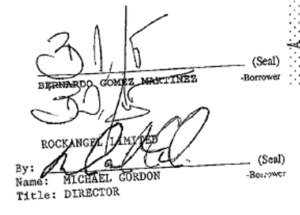 Bernardo Gomez's signature on the deed of trust for the property, along with the signature of one of Rockangel Limited's directors, who signed on behalf of the company.
ChedrauiLeaks has previously profiled Alfonso de Angoitia and his wife's purchase of Unit #1209 in the same building, for $2.425 million in 2003. In 2018 that unit was valued at $3.1 million for tax purposes by San Diego County.
Documents