Miami, December 17, 2019 – Genaro Garcia Luna lived in South Florida in luxury residences provided by the family of Jonathan Alexis Weinberg Pinto from 2013 to 2018. Now for the first time ChedrauiLeaks has revealed Jonathan Alexis Weinberg Pinto is connected to Jose Antonio Meade through Meade's cousins-by-marriage.
Carlota Goeters Arbide is the wife of Jonathan Alexis Weinberg Pinto. Carlota also managed Peninsula CAS LLC, which owned part of the Weinberg Pinto real estate portfolio in South Florida from 2009 to 2013.  In 2013, Carlota turned over management of Peninsula CAS LLC to Gabriel S. Díaz-Sarmiento. Díaz-Sarmiento became a manager of Genaro Garcia Luna's Florida-based security consulting firm the same year. Weinberg Pinto also told Univision that his father has known Garcia Luna since the 1980s when they were both at CISEN (Centro de Investigación y Seguridad Nacional).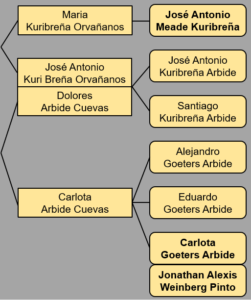 Carlota's first cousins, Jose Antonio Kuribreña Arbide and Santiago Kuribreña Arbide, are also Jose Antonio Meade's first cousins. The connection runs through the sister of the aunt of Jose Antonio Meade:
Members of the Meade Kuribreña family, Kuribreña Arbide family, and Goeters Arbide family have had close relations:
Dolores Arbide Cuevas de Kuri Breña and Carlota Arbide Cuevas de Goeters shared ownership of the same plot of land, registered as Alpes 120 in Lomas de Chapultepec in Mexico City, for 50 years beginning in 1968.
José Antonio Kuribreña Arbide, Santiago Kuribreña Arbide and Meade's wife Juana Cuevas, together founded a company in Mexico City named Kubre SA de CV in April 1994 – two months before Cuevas and Jose Antonio Meade were married.
Two brothers of Carlota Goeters Arbide are Eduardo Goeters Arbide and Alejandro Goeters Arbide. ChedrauiLeaks previously revealed that in June 2013, the Foreign Ministry stopped the extradition of Eduardo and Alejandro Goeters Arbide, who faced narcotrafficking charges in the United States. Meade was Foreign Minister of Mexico at the time. The US federal criminal case against the Goeters Arbide brothers remains sealed in the United States District Court Eastern District of Virginia. The case number is: 1:10-CR-316.
Documents
Genealogy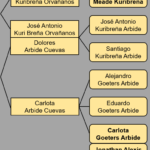 (1) Jose Antonio Meade Kuribreña (Twitter); (2 & 3) Cabrera Ypiña de Corsi, Matilde, De la Peña de San Luis Potosí, Editorial Universitaria Potosina (1985)
Peninsula CAS LLC
GL & Associates Consulting LLC
Alpes 120
Kubre SA de CV
Trademarks – Alpes 120-A
Eduardo Goeters Arbide and Alejandro Goeters Arbide

Case Number 1:10-CR-316 in the United States District Court for the Eastern District of Virginia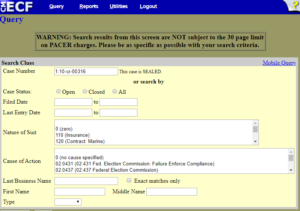 About ChedrauiLeaks.org
ChedrauiLeaks.org is a project of the United Food and Commercial Workers, to investigate the connections between the Chedraui family and other Mexican elites as well as their links to business and property in the United States, the business and political activities of Mexican elites generally, and provide information about the struggle of El Super workers for a better life. ChedrauiLeaks is not stating that any members of the Chedraui family or its businesses had any involvement with the events referenced in this press release.