U.S. Financial Industry Regulatory Authority (FINRA) disclosure statement exposed ownership
Washington, DC, February 14, 2020 – – ChedrauiLeaks today revealed a U.S. document showing that in August 2019, Consuelo Lourdes Garza Laguera de Romo, the wife of President Lopez Obrador's Chief of Staff Alfonso Romo Garza, had become the beneficial owner of between 25% and less than 50% of Vector Casa de Bolsa SA de CV according to the current FINRA public reporting system (checked Feb. 14, 2020).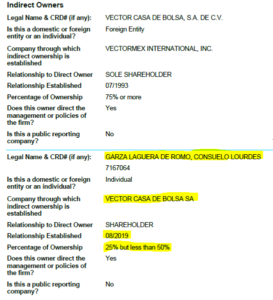 The precise ownership of Vector Casa de Bolsa has been shrouded in mystery in recent months. The wife of Romo Garza was the only reportable beneficial owner. For the period prior to August 2019, the most recent currently available public documents are from the U.S. Securities and Exchange Commission (SEC) and the documents do not disclose any owners of Vector Casa de Bolsa (dated Feb. 28, 2019). FINRA and SEC both have a 25% beneficial owner reporting threshold for parent company shareholders.
In his Mexican public financial disclosure, Alfonso Romo Garza reported "none" under the heading "economic or financial interests of the declarant, spouse, companion and/or economic dependents" in the section for "possible conflicts of interest" in January and May 2019.

Alfonso Romo Garza served on the board of directors of Grupo Comercial Chedraui from 2002 to 2005. ChedrauiLeaks is not stating that any members of the Chedraui family or their companies have any involvement in the ownership of Vector Casa de Bolsa.
Documents:
About ChedrauiLeaks.org
ChedrauiLeaks.org is a project of the United Food and Commercial Workers, to investigate the connections between the Chedraui family and other Mexican elites as well as their links to business and property in the United States, the business and political activities of Mexican elites generally, and provide information about the struggle of El Super workers for a better life.