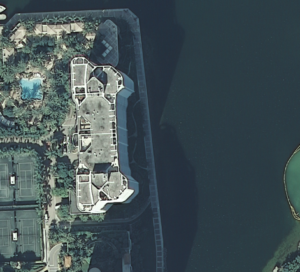 Federico Fernandez and Maribel Salazar purchased Unit 2802 at 7000 Island Boulevard in Aventura, Florida for $762,500 according to a deed dated June 18, 2003. The full name of Federico Fernandez is Federico Carlos Fernandez Senderos according to a document attached to the deed.
Federico Fernandez and Maribel Salazar signed a $610,000 mortgage secured by the condo on June 20, 2003.

The loan was released in February, 2014. Federico Fernandez and Maribel Salazar signed a deed selling the condo to Vorstellung Management, LLC, a Delaware limited liability company, on March 4, 2014. A payment of $100 or less was made on the transaction according to the transfer tax recorded on the deed.
The condo had an assessed value for 2014 tax purposes of $833,701 according to the Miami-Dade County Tax Collector.
Federico Carlos Fernandez Senderos was an independent director of Grupo Comercial Chedraui as of August 20, 2018. He has served on the Chedraui board of directors since 2008. Federico Fernandez Senderos was also the executive chairman of Grupo Sim and a director of Grupo KUO, Grupo Dine, and Factoring Corporativo SA de CV according to the Chedraui annual report filed April 27, 2018 with the Mexican stock exchange.
The deed for the condo in 2003 gave a mailing address for Federico Fernandez at the same location as the corporate headquarters for Grupo Sim: "B. Duraznos #187 Sotano, Plaza Bosques, B. de las Lomas, CP 11700 Mexico D.F. Mexico".
Federico Carlos Fernandez Senderos is a top-rated Mexican show jumper who qualified to compete in the September 2018 World Equestrian Games in Tryon, North Carolina.
Documents:
ChedrauiLeaks.org has noticed that the media in Mexico contains very little information about the business dealings and personal assets in the United States of what could be termed Mexican elites, wealthy business people and politicians. ChedrauiLeaks is not stating that members of the Chedraui family or the Chedraui businesses had any involvement with this condo unit.