The yacht is property of a chauffeur, a personal assistant, an executive of the supermarket chain and an accountant, public registries show.
Mexico City, January 23, 2019.– According to information checked by ChedrauiLeaks, no member of the Chedraui family is registered as an owner of the super yacht that Alfredo Chedraui Obeso controls. A chauffeur, an executive assistant, an accountant, and the Grupo Comercial Chedraui construction director are who appear as owners in the records of the Public Registry of Commerce of Xalapa.
The information was revealed in public registry documents that trace a path from the Cayman Islands, through Canada to Mexico.
The yacht "Tsumat", nearly 50 meters long and custom built by one of the world's elite yacht builders from 2008 and 2012, boasts state of the art construction including hand-stitched leather, custom-made onyx bathroom sinks, a wine cellar, and "two amazing pieces of art from the owner's private collection" according to the ship's builder.
Photographs of the yacht's luxurious interior are widely available online including Boat International magazine. Tsumat has stayed at sea and in a Florida dry dock, moving among vacation destinations in the Caribbean and Mediterranean according to maritime industry data since 2017.
The "Tsumat" flies the Cayman Islands flag, and the Caymans ship registry shows its owner is New Winds Limited Partnership in Montreal, Quebec.

Alfredo Chedraui Obeso certified to Quebec that the partners of New Winds Limited Partnership were Rutas Navales, SA de CV, and Trayectos del Mar, SA de CV, both at Grupo Comercial Chedraui headquarters in Mexico City in September 2009.


The Quebec business registry shows this information unchanged since then (January 23, 2019). Trayectos del Mar and Rutas Navales were registered in the Xalapa public companies registry in July 2009.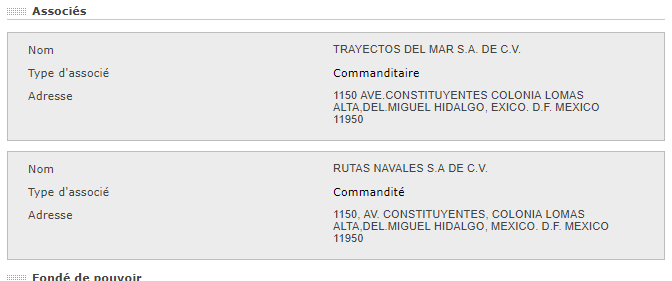 Alfredo Chedraui Obeso was granted broad powers to act on behalf of the companies, but four other people were identified as the shareholders: one described as a chauffeur, another as an executive assistant, a third identified as an accountant by a separate Chedraui Obeso company, and Alejandro Lara Hakim, who has been the construction director at Grupo Comercial Chedraui for over 30 years.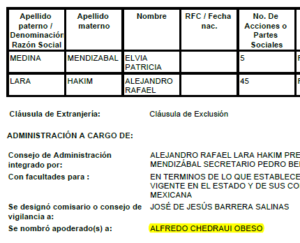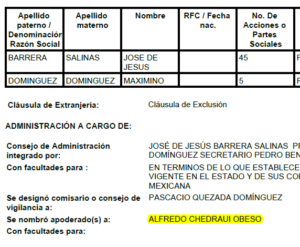 The Xalapa public registry shows the shareholders unchanged (January 23, 2019).
Documents:
About Chedrauileaks.org
ChedrauiLeaks.org is a project of the United Food and Commercial Workers, to investigate the connections between the Chedraui family and other Mexican elites as well as their links to business and property in the United States, the business and political activities of Mexican elites generally, and provide information about the struggle of El Super workers for a better life.