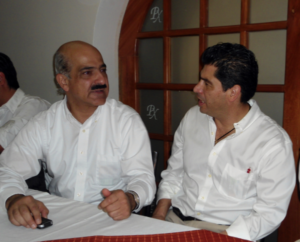 President Lopez Obrador's new federal customs director Ricardo Ahued Bardahuil has been registered in Veracruz since 2003 as a co-owner of a private company together with two of the nation's major importers, Grupo Chedraui owners Alfredo Chedraui Obeso and Jose Antonio Chedraui Obeso.
Ricardo Ahued was founding treasurer and an equal owner with Antonio Chedraui Obeso and Alfredo Chedraui Obeso in A Ti, SA de CV according to its 2003 corporate formation record in the Xalapa companies registry. The registered owners also include Christiane Magnani Pavese, the wife of former Veracruz governor Miguel Aleman Velasco, as of August 20, 2019. The company is still registered with an "open" status on August 20, 2019. No shareholder changes had been filed when we reviewed the records system on August 20, 2019 even though two shareholders have died in recent years. The company was at one time (2010) disclosed as part of the Grupo Chedraui supplier roster with a federal tax identification number TIX031021SW7.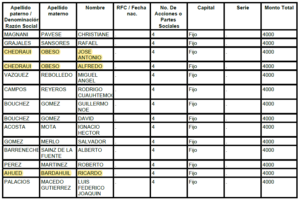 Ricardo Ahued refused to make any of his ownership information public in his July 2019 personal financial disclosure statement.

Grupo Chedraui imports a significant quantity of consumer goods as the third-largest retailer in Mexico. Ricardo Ahued was mayor of Xalapa, where Grupo Chedraui is based, immediately before David Velasco Chedraui became mayor. David Velasco Chedraui is the nephew of Alfredo and Antonio Chedraui Obeso.
Other cross-border activity by Grupo Chedraui includes a Gulfstream jet that regularly enters and exits Mexico. Meanwhile Alfredo Chedraui Obeso controls the mega-yacht Tsumat which sails internationally to and from Mexico yet on paper has no Chedraui family ownership, according to the Mexican corporate registry on August 20, 2019.
Documents: