In 2019, the Veracruz education ministry (SEV) cancelled state and federal contracts with dozens of nomína lending companies, including CIEP Procasa de Xalapa and Consupago.

The SEV cancelled contracts with Consupago and CIEP Procasa de Xalapa SA de CV in 2019
The financial consumer protection body CONDUSEF named some of the companies with cancelled contracts in a 2018 letter to the federal education ministry (SEP). In the letter, CONDUSEF reported that teachers and public workers had submitted complaints that "agents" had contacted them and fraudulently obtained their personal information to access credit in workers' names with various financiers. CONDUSEF described the complaints as meritorious claims. The financial companies referenced in the complaints include Financiera Fortaleza, Kondinero and Consupago (see full list of financiers mentioned in the letter below).

Although the letter concerned complaints by Mexico City teachers and public employees, CONDUSEF stated in the letter that it identified similar issues in Oaxaca, Tamaulipas and Veracruz. The agency recommended the SEP refrain from making paycheck deductions for teachers and other workers until it could determine the origination and authenticity of the credit.
Members of the Chedraui family own Grupo Consupago through Cubo Capital. According to the 2018 annual report for Consubanco, Grupo Consupago in turn owns 99.94% of Consupago and 50% of CIEP Procasa.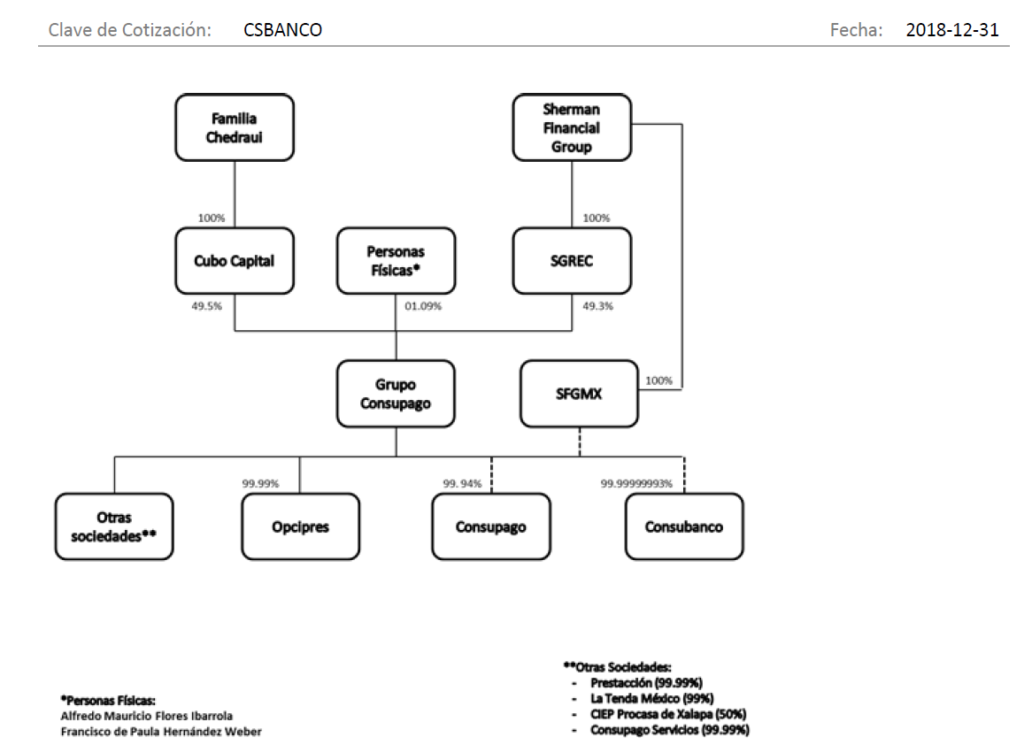 Excerpt from Consubanco's 2018 Annual Report
Complete list of nómina lenders with canceled contracts: 
Financiera Fortaleza SA de CV
CIEP Procasa de Xalapa SA de CV
Crediland
Magistral Agente de Seguros
Consupago
Etesa
Impulsora Promobien
Fomepade SAPI de CV SOFOM ENR
Organización Cultural de Chiapas
Grupo Peben
Rezza Editores
Operación y Auditoria
Edilar
Yireh & Brokers Agente de Seguros
Pre15na
Promotoria VVV
Aeternam
Directodo Mexico
Fideicomiso Global del SNTE 56
Siempre Efectivo
Cerro Largo Ediciones
HINB SA de CV SOFOM NR
Metlife
Programa Educativo Nacional SA de CV
Grupo Peben SA de C.V.
Org Cult. Chiapas
Consupago SA de CV SOFOM ER
Yireh & Brokers Agente de Seguros, SA de CV (Inbursa SA)
Fomepade
Finastrategy MX
Dinerito Audaz SAPI de CV SOFOM ENR
Credito Facil, HINV SA de CV
Refinanciamiento Bansefi
Publiseg SAPI de CV SOFOM ENR
Visión Maestra (Minerva PEREZ CH)
Reyan Asesoria Integral
Especialistas Endescuentos via Nómina DAGO SA
Financiera Maestra
Promotoria VVV SAPI de CV SOFOM ER
Aeternam SAPI de CV (Total Credit)
Grupo KF SA de CV SOFOM ENR
Directodo Mex SAPI de CV SOFOM ENR (Kondinero)
Operacion y Auditoria SA de CV (Crediempleado)
Emprendedores Tu Comunidad
Requerimiento Patrimonial SAPI de CV SOFOM ENR
Siempre Creciendo Finómina
Fisofo SA de CV SOFOM ENR
Consorcio Santel SA de CV
Grupo Editorial Mediterraneo
Seguro Individual de Ahisa (Aseguradora Hidalgo)
Ediciones Tratados Y Equipo – SA de CV (Etesa)
Segudescuentos
Grupo Nacional Provincial
Grupo Empresarial Criservan SA
Programa Educativo Nacional SA de CV
Intermercado, SA de CV
Magistral Agente de Seguros SA de CV
Impulsora Promobien SA de CV (Famsa)
Siempre Efectivo SA de CV SOFOM ENR
DXN Express
Pacto Financiero
Documents: