Two Grupo Consupago subsidiaries, Consupago SA de CV and Opcipres SA de CV, generated 69.9% of all borrower complaints – 63,702 complaints out of 91,024 total – against regulated lenders  in 2019, according to financial consumer protection body CONDUSEF.
Consupago SA de CV, doing business as Paguitos, accounted for over half – 54.9% – of all consumer complaints over the course of the year.  Opcipres SA de CV was the subject of 15% of the complaints.  CONDUSEF reported that there were 49,981 claims made against Consupago and 13,721 against Opcipres out of a total of 91,024 complaints against regulated lenders officially known as SOFOMES ER during 2019 (see the image below).
Regulated multiple purpose financial companies, known as SOFOMES ER in Spanish, are financial companies that grant credit, maintain leasing operations or engage in financial factoring. SOFOMES ER are linked with a parent credit institution or financial group company and registered with CONDUSEF.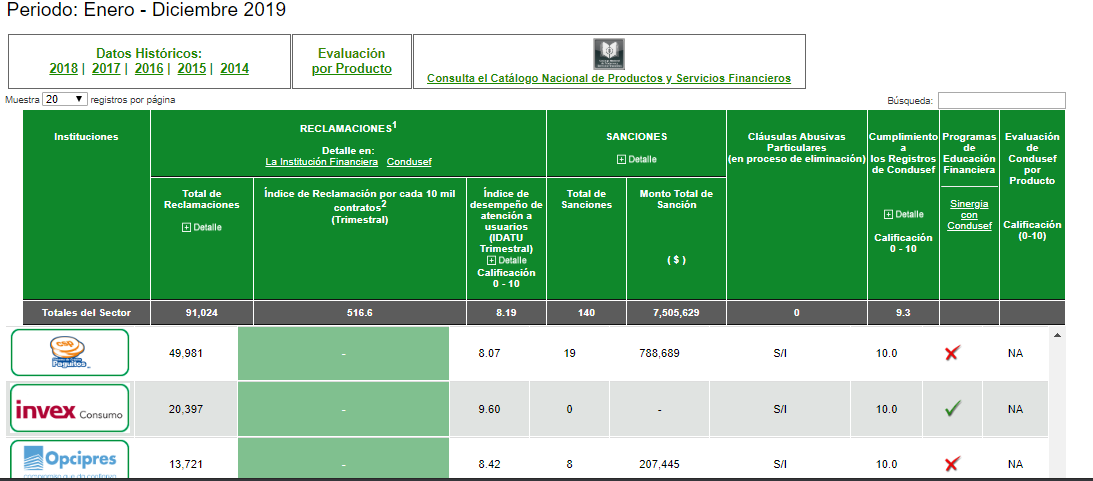 Members of the Chedraui Obeso family, through Cubo Capital SA de CV, are in the process of becoming 98.79 % owners of Grupo Consupago up from 49.49% as of November 22, 2019.