Washington, DC, July 22, 2020 — Alfonso Romo Garza, Chief of the Office of the President of Mexico, denied his business empire would get benefits from the Mexican government, but it appears getting US government benefits are a different matter. A COVID-19 bailout loan in an amount between $350,000 and $1 million went to the New York arm of Alfonso Romo's company Nature Source Improved Plants, which counts Alfonso Romo's son— Alfonso Romo Garza Laguera— as its CEO and which is a joint venture part-owned by another company controlled by Romo called Agromod. The US government's list of COVID bailout loan recipients details Nature Source Improved Plants will likely get its COVID bailout loan forgiven if it continues to employ its sixteen New York employees and uses at least 60% of the loan for their payroll.

President-elect Andres Manuel Lopez Obrador visited employees of Nature Source Improved Plants at an Agromod facility in Chiapas near the location of the Mexico arm of Nature Source Improved Plants in August 2018, where Lopez Obrador promoted his tree-planting program now known as Sembrando Vida. Alfonso Romo and Lopez Obrador posed together for a photo with technicians wearing labcoats including the "NSIP" logo for Nature Source Improved Plants, a photo which Lopez Obrador tweeted out.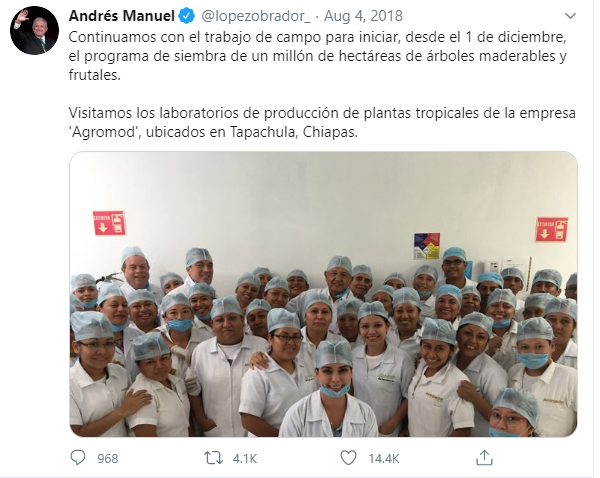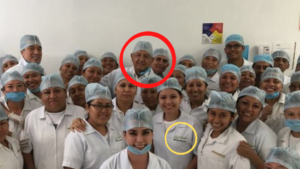 Andres Manuel Lopez Obrador's official non-governmental website credited Alfonso Romo as the leader in genetic technology for tropical crops "through the company Nature Source Improved Plants" on July 22, 2020.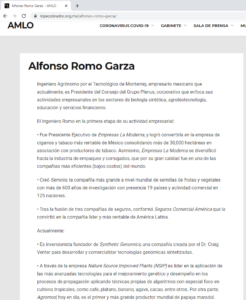 Agromod was Alfonso Romo's company according to El Universal, La Jornada, and El Financiero at the time of Lopez Obrador's visit in August 2018, and no changes to the ownership of Agromod and its parent entities Valores Corporativos Savia, SA de CV and Savia SA de CV were publicly available in the Mexican company registry for the period afterward. Agromod stated on its website in July 2020 that it is an owner of Nature Source Improved Plants, which was formed by Agromod and an American group in 2016.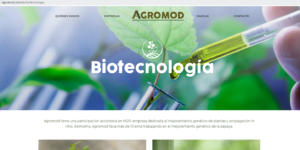 Alfonso Romo's son— Alfonso Romo Garza Laguera— became CEO of Nature Source on April 8, 2020, almost one month before the loan for Nature Source Improved Plants was approved on May 5. Leadership roles in other companies linked to Alfonso Romo were held by all three members of the Nature Source Improved Plants board of directors (named on the Nature Source website on July 16, 2020):
Luis Porras Camargo, a senior executive at Vector Casa de Bolsa, which became more than 25% owned by Alfonso Romo's wife, Consuelo Lourdes Garza Laguera, in August 2019 according to one of its subsidiaries' US regulatory disclosures.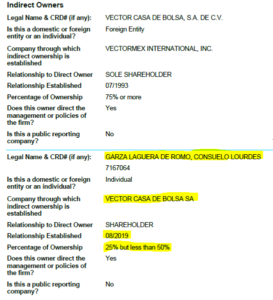 Jorge Fenyvesi, was the Director General of Agromod according to the Nature Source Improved Plants website on July 16, 2020.
Francisco Garza Barbosa, the comptroller of Savia when Alfonso Romo was its Chairman and CEO.
Alfonso Romo served on the board of directors of Grupo Comercial Chedraui from 2002 to 2005. ChedrauiLeaks is not stating that any members of the Chedraui family or their companies have any involvement in Agromod or its affiliates.
About ChedrauiLeaks
ChedrauiLeaks is a project of the United Food and Commercial Workers, to investigate the connections between the Chedraui family and other Mexican elites as well as their links to business and property in the United States, the business and political activities of Mexican elites generally, and provide information about the struggle of El Super workers for a better life.