Click here to see "Part 1" of this post
This is the second in a series taking a close look at a Chedraui-Slim family joint investment in Texas that opens a window into how some members of the families today invest portions of their considerable wealth in the United States.
This post looks at the purchase and sale of the land, which lay along Highway 90 in Crosby, Texas, outside Houston, by the Chedraui-Slim investment partnership.
Earlier we profiled the investment partnership, which was 70% (and later 85%) owned by members of the Chedraui and Slim families: These included at various times Antonio and Alfredo Chedraui Obeso, Carlos Slim's brother José Slim (later his estate, executed by Carlos Slim's other brother Julián Slim), Carlos Slim's brother-in-law Michel Khoury, and, we believe, Antonio Chedraui Caram (father of the Chedraui Obesos).
The land was purchased June 7, 1985, four days after the agreement establishing the investment partnership (named 17.2, Ltd.) was filed with the State of Texas (the agreement had been signed by its investment partners on May 24, 1985).
The purchase price was initially set at $447,220 by the 17.2, Ltd. Certificate of Partnership. The deed did not provide the full price, but it did show that the seller provided financing at the same amount ($292,481), as was also initially set in the Certificate of Partnership. The loan would be payable annually over the next 10 years, according to a mortgage document filed with the deed.
Alfredo and Antonio Chedraui Obeso personally acquired the seller financing effective 1987, but interestingly the transfer of lien document was not signed until 1997 (see below).

In 1988, Antonio Chedraui Caram died. We believe he was the Antonio Chedraui named as the original 50% owner of the partnership. Another investor, José Slim (brother of Carlos Slim) died in 1990.
In 1994, the 17.2, Ltd. partnership agreement was amended to increase the Chedraui share and split it among Alfredo Chedraui Obeso and Antonio Chedraui Obeso. Alfredo Chedraui Obeso stepped in as General Partner. José Slim's estate (through his brother Julián Slim as executor) retained José's share. Technically the amendment did not become effective until 1997 when it was filed at the State of Texas.
Alfredo and Antonio Chedraui Obeso released 17.2, Ltd. from its loan on August 8, 1997 and the same day signed a deed selling the land to a local church (with an August 11, 1997 effective date of sale, see below The full sale price was not identified in the deed.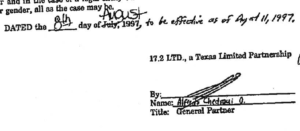 Documents
• 1985 Deed
• 1985 Certificate of Limited Partnership
• 1985 Deed of Trust
• Transfer of Lien
• 1997 Release
• 1997 Deed