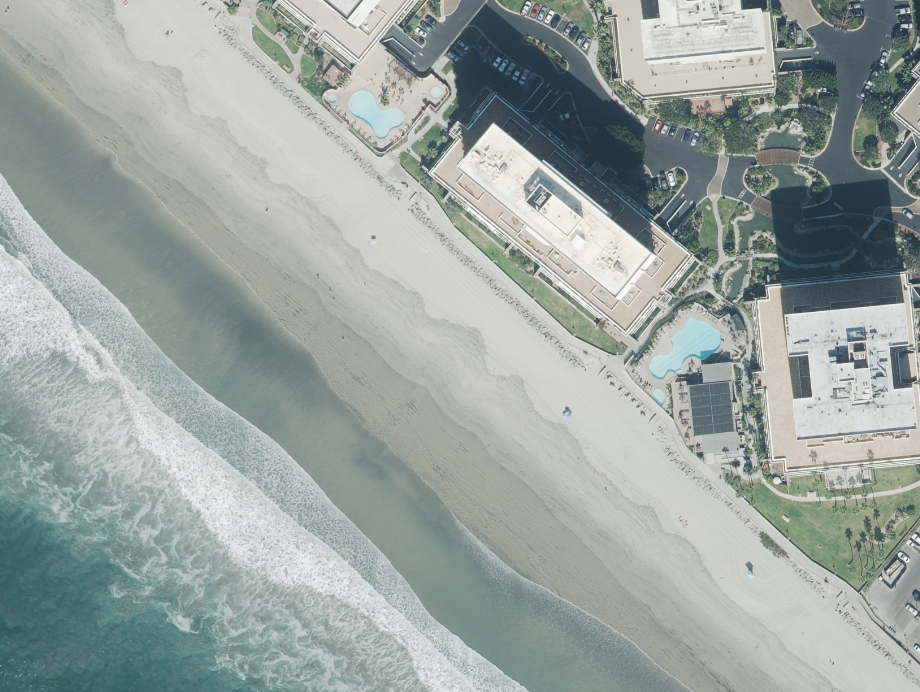 Aerial view of 1760 Avenida del Mundo in Coronado, California (Imagery available from the U.S. Geological Survey.)
Carla Azcarraga Jean, the sister of Emilio Azcarraga Jean, is the CEO of a California company that has owned a luxury seaside California condo since 1975.
Emilio Azcarraga Milmo bought unit 908 at 1760 Avenida del Mundo in Coronado, California along with a tandem parking space for $88,000 in May, 1973, which adjusted for inflation would have been approximately $494,000 in October, 2017 dollars (using the United States Bureau of Labor Statistics Price Index Inflation Calculator).  Azcarraga Milmo borrowed $70,300 at the time of purchase.  The year before (1972), he had taken over as chairman of the board of Televisa after the death of his father, Emilio Azcarraga Vidaurreta.

On December 15, 1974, Emilio Azcarraga Milmo signed a Bill of Sale to Daisy "C", Inc. for all the furnishings within unit 908.  The Bill of Sale included an inventory of the furnishings with dollar amounts, which totaled $129,242, which would be worth approximately $614,000 adjusted for inflation as of October, 2017.
In 1975, Emilio Azcarraga Milmo and Nadine J. de Azcarraga, husband and wife, sold Unit 908 and its parking space to Daisy "C", Inc., a California corporation (as written on the deed).  The full sale price was not disclosed but we believe Azcarraga Milmo sold the real property for very close to his original cost.  Our belief is based on the fact that the documentary transfer tax was paid on $18,000 in value "computed on full value less liens & encumbrances remaining thereon at time of sale."  The original price ($88,000) less the original mortgage amount ($70,300) was $17,700.  The mortgage remained on the property and was not released until 2002.

Unit 908 and the furnishings and parking that Daisy "C", Inc. acquired in 1975 were altogether worth about $1 million in inflation-adjusted October 2017 dollars.
Carla Azcarraga is the CEO and a director of Daisy "C", Inc. according to its most recent Statement of Information to California filed Jan. 4, 2017.  This is the same Carla Azcarraga as Carla Azcarraga Jean.
Carla Azcarraga Jean is a sister of Emilio Azcarraga Jean, the chairman of Televisa.  Carla's husband Xavier Von Bertrab Mestre was with Televisa for 10 years, last serving as CEO of Televisa's part-owned subsidiary Cablevision in 2003.
Documents:
ChedrauiLeaks.org has noticed that the media in Mexico contains very little information about the business dealings and personal assets in the United States of what could be termed Mexican elites, wealthy business people and politicians. ChedrauiLeaks is not stating that members of the Chedraui family or its businesses had any involvement with Daisy "C", Inc. or this condo unit and parking.