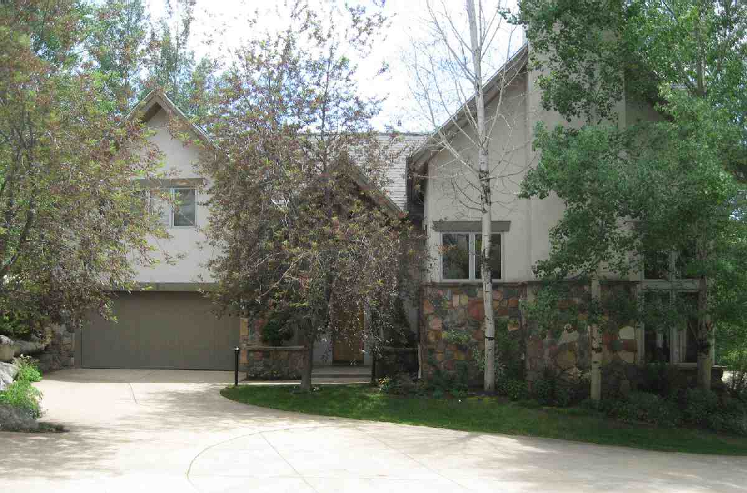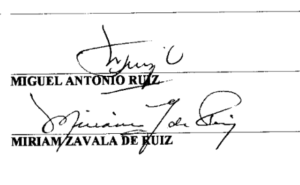 Cape Shirley N.V., a Netherlands Antilles corporation, purchased 1548 Matterhorn Circle #3 in Vail, Colorado for $610,000 on September 3, 1997. Cape Shirley N.V. borrowed $305,000 against the property according to a deed of trust made the same day. Miguel Antonio Ruiz signed the deed of trust as a director of Cape Shirley N.V. The deed of trust was personally guaranteed by Miguel Antonio Ruiz and Miriam Zavala de Ruiz. The deed of trust was fully released on March 22, 2002.
Three years later (August 18, 2005), Cape Shirley N.V. borrowed $200,000 against the property. This time Miguel A. Ruiz-Ortiz and Miriam Zavala-Ruiz (as their names were written on the deed of trust)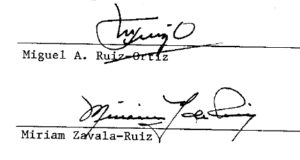 personally guaranteed the deed of trust and a managing director in the Netherlands Antilles signed on behalf of Cape Shirley. Miguel and Miriam's signatures on the 2005 Deed of Trust closely resemble those on the 1997 deed of trust (see right and above). Cape Shirley finished paying off the August 2005 loan by February of 2009.
Cape Shirley N.V. sold the house to Corza Holdings Inc., a Colorado corporation, for $817,100 on February 6, 2015. Corza Holdings Inc. listed a "Miguel Ruiz" as its incorporator in Articles of Incorporation filed with the Colorado Secretary of State. The condo was valued at $1,140,980 for tax purposes as of January 19, 2018.
Miguel Antonio Ruiz Ortiz is the son of Valentín Ruiz Obregón, popularly known as the "Slim of Veracruz." Miguel's brother, Valentín Manuel Ruiz Ortiz, was reportedly considered the wealthiest businessman in Veracruz until his death in 2014. Valentín Ruiz Ortiz and his children were named in the Panama Papers in connection with other companies.
Miguel Ruiz Ortiz's niece, Maria Esther "Tete" Ruiz Anitua (daughter of Valentín Ruiz Ortiz) is married to Justo Felix Fernandez Chedraui. Tete's cousin, Mariana Ruiz Hidalgo, is married to Antonio Fernandez Chedraui.
Justo Felix Fernandez Chedraui and Antonio Fernandez Chedraui are nephews of Antonio and Alfredo Chedraui Obeso.
Documents:
ChedrauiLeaks.org has noticed that the media in Mexico contains very little information about the business dealings and personal assets in the United States of what could be termed Mexican elites, wealthy business people and politicians. ChedrauiLeaks is not stating that members of the Chedraui family or its businesses had any involvement with Cape Shirley N.V., Corza Holdings Inc., or this house.