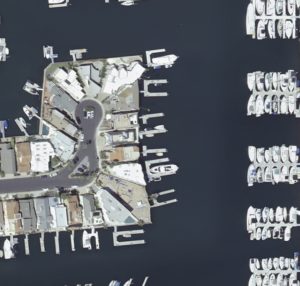 A California mansion worth around $5 million for tax purposes is still owned, according to San Diego County land records, by a Mexican company, Comercializadora TTS SA de CV, that Elba Esther Gordillo Morales's mother owned before the mother passed away.
The now-dismissed case against Gordillo Morales included accusations (dropped in August 2018) that Gordillo Morales acquired the property with allegedly embezzled funds from the Mexican teachers' union SNTE. Gordillo Morales had been the long-time leader of the SNTE.
The property, at 23 Green Turtle Road in Coronado CA was listed for sale and then de-listed in 2017.
Property tax was past due and accumulating interest charges and penalties as of Gordillo's release from detention in early August 2018. The past-due tax plus penalties reached $61,800 that month (August 2018). San Diego County can eventually seize property and auction it off if an owner doesn't pay the taxes and penalties. No auctions have been scheduled for this property.
Gordillo's mother Zoila Estela Morales Ochoa owned Comercializadora TTS SA de CV in 2007 according to land records for 23 Green Turtle Road. Morales Ochoa signed a deed in 2007 transferring the mansion's title to Comercializadora TTS SA de CV and declared "this conveyance only changes the manner in which title is held" and that the owners "remain the same and continue to hold the same proportionate interest."
ChedrauiLeaks previously revealed that two companies were registered in November 2016 using the 23 Green Turtle Road address, named "529-531 G Street LLC" and "Moddington LLC."
Gordillo's grandson Rene Fujiwara Montelongo signed statements identifying himself as an owner ("managing member") of both G Street and Moddington. The statements were filed with the state of California in January 2017. Gordillo's daughter Maricruz Montelongo Gordillo was also registered as a manager or member of 529-531 G Street LLC.
Both companies remain registered to the Gordillo-linked mansion in "active" status according to the California state business registry as of August 13, 2018 (see below).

Documents:
ChedrauiLeaks.org has noticed that the media in Mexico contains very little information about the business dealings and personal assets in the United States of what could be termed Mexican elites, wealthy business people and politicians. ChedrauiLeaks is not stating that members of the Chedraui family or its businesses had any involvement with any of the entities or events described above.