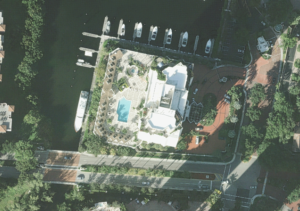 David Daniel Kabbaz and Victoria Zaga de Daniel Kabbaz signed a deed on August 6, 2013 granting title to Unit 17-A at 19500 Turnberry Way in Aventura Florida to Paralelo Holding Ltd, a British Virgin Islands company. A payment of $100 or less was made on the transaction according to the transfer tax recorded on the deed.
Unit 17-A was considered to have a $439,843 market value for 2018 tax purposes by the Miami-Dade County Office of the Property Appraiser.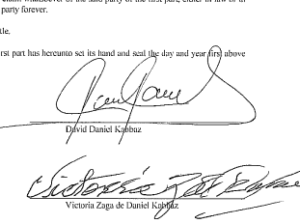 David Daniel Kabbaz, as "David Daniel," signed a notarized notice concerning Unit 17-A in 2017 as an "Authorized Officer/Director/Partner/Manager" of the owner, Paralelo Holding Ltd, on August 20th, 2017.  (Click on excerpt below.)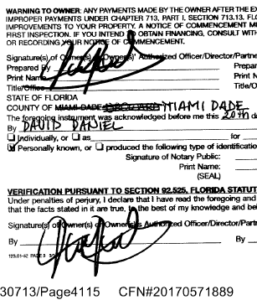 ChedrauiLeaks previously published a profile of David Daniel Kabbaz Chiver in his role as president of a Netherlands Antilles company, Festival Financial NV, when it owned a condo on the California coast near San Diego.
Festival Financial NV owned multiple luxury seaside condominiums outside San Diego.
David Daniel Kabbaz Chiver is one of the founders of Grupo Danhos. He also serves as the Chairman of the Technical Committee for Fibra Danhos (as of August 29, 2018 according to the Fibra Danhos website).
Jose Antonio Chedraui Obeso was as of August 29, 2018 an independent director on the Technical Committee for Fibra Danhos and on the audit, nominations, and practices committees according to Fibra Danhos.
Elvira Daniel Kabbaz Zaga is David's daughter.  Elvira was confirmed on March 15, 2018 as David's alternate as chairman of the Technical Committee for Fibra Danhos.
Documents:
ChedrauiLeaks.org has noticed that the media in Mexico contains very little information about the business dealings and personal assets in the United States of what could be termed Mexican elites, wealthy business people and politicians. ChedrauiLeaks is not stating that members of the Chedraui family or its businesses had any involvement with Paralelo Holding Ltd or this condo unit.