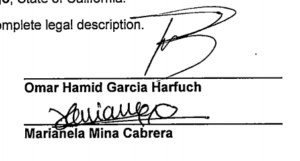 Omar Hamid García Harfuch and his wife Marianela Mina Cabrera sold 6142 Verda Lane in San Diego, California for $753,000 in December 2018 according to the transfer tax shown on the deed of sale. This is a significant amount above the $469,900 they paid to purchase the house at the end of 2006.
Omar Hamid García Harfuch was named the Chief of the Investigative Police for the Mexico City Attorney General in June 2019 after stepping down as the head of the federal Attorney General's Criminal Investigation Agency.
Documents:
ChedrauiLeaks.org has noticed that the media in Mexico contains very little information about the business dealings and personal assets in the United States of what could be termed Mexican elites, wealthy business people and politicians. ChedrauiLeaks is not stating that members of the Chedraui family or its businesses had any involvement with the property described above.