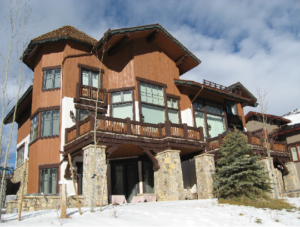 As we continue to research Mexican elites' connections to real estate in Vail, Colorado, we were struck by the similarities among the companies that own Unit 3 and Unit 5 at 825 W Forest Road in Vail, Colorado. Grupo Televisa is a common element among the original owners of both properties.
We've written about Unit 5 twice before (here and here). The property's original owner was a Colorado corporation that used a Grupo Televisa address in Mexico. Prior to that, an Alfonso de Angoitia had been named in a filing by the condo developer as having a contract to purchase Unit 5 upon its construction. An Alfonso de Angoitia Noriega is the Executive Vice President of Grupo Televisa and has been a member of the Televisa board since 1997.
Similarly, the owner of record for Unit 3 at 825 W Forest Road has been a Colorado corporation using the same Televisa address in Mexico as was used by Unit 5's original owner (as shown below). We don't know who ultimately owns Unit 3. But we do believe, as discussed below, that they show the CEO and Chairman of Grupo Televisa, Emilio Azcárraga Jean, had the contract to purchase the unit before it was built.
Emilio Azcárraga Jean is the Chairman of the Board of Directors, President and Chief Executive Officer, and Chairman of the Executive Committee of Grupo Televisa, as well as member of the Board of Directors of Grupo Financiero Banamex, S.A. de C.V. (as of Nov. 2016), and Univision Communications.
Unit 3 at 825 Forest Road had a $6.3 million estimated market value listed by Eagle County Colorado as of 1/17/2017. 3 GCP Inc. has continued to own the unit through January 17, 2017.
January 11, 2005
According to a construction loan filed with the U.S. Securities and Exchange Commission, "Emilio Azarraga" (as spelled in the filing) executed a purchase contract with Gore Creek Place LLC, the developer for the then-unbuilt Unit 3W at the Gore Creek Place condominiums in Vail, Colorado. Considering the similarities detailed below between this condominium and Unit 5, including the use of the same Televisa address, we believe this was a mispelling and shortening of the name of Emilio Azcárraga Jean.
This was the same execution date as for Alfonso de Angoitia's purchase contract for Unit 5W. No other purchase contracts were reported to be executed that day.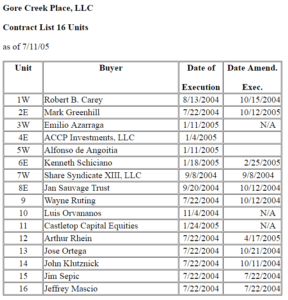 Based on our review of the condominium plat recorded by Gore Creek Place LLC, we believe the unbuilt Unit 3W at Gore Creek Place became Unit 3 at 825 Forest Road in Vail, Colorado.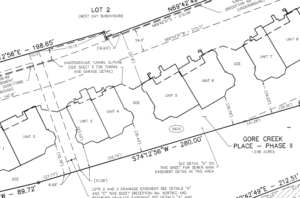 October 23, 2006
3 GCP, Inc. was incorporated in Colorado. The same day, 5 GCP Inc. was incorporated with the same addresses and registered agent. 5 GCP Inc. eventually purchased Unit 5 at 825 Forest Road in Vail as we examined earlier.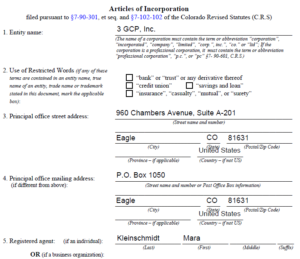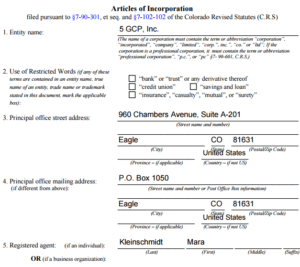 January 15, 2007:
3 GCP, Inc. purchased 825 Forest Road, Unit 3 in Vail, CO from the developer, Gore Creek Place LLC for $3,550,000. (The Eagle County Assessor's Office considered the sale date for valuation purposes as Jan. 11, 2005, the date the purchase contract was executed.) The deed showed the address for 3 GCP, Inc. as Av. Chapultepec 18, México D.F., Mexico as its address.

5 GCP Inc. had the same address in its deed.

We've previously shown this address has served as a Televisa location since at least July 2005.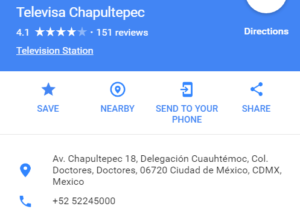 Luis-Francisco Mendez-Rivas signed the deed for 3 GCP, Inc. as Secretary of the company.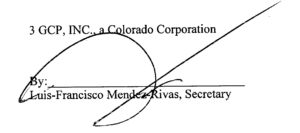 And the deed for 5 GCP, Inc. was also signed by Luis-Francisco Mendez-Rivas, Secretary.