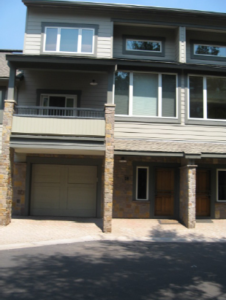 According to a deed dated March 17, 1980, David Daniel Kabbaz and his wife, Victoria Zaga Kabbaz (as named on the deed), purchased Unit 18 at the Coldstream Condominiums in Vail, Colorado for $205,800 (according to the state documentary fee paid, which was a charge of $0.01 per $100 paid by the purchaser).
Loan documents filed in Eagle County show David Daniel Kabbaz and Victoria Zaga de Daniel (as named on the documents) got a $140,300 loan from The Empire Savings Building and Loan Association secured by the condo unit. The deed of trust for the loan was dated February 29, 1980, and signed and notarized in San Diego on April 10 that year.
On February 24, 1989, David Daniel Kabbaz and Victoria Zaga Kabbaz sold the unit for $278,000.
The condo unit had a $1,373,960 value for tax purposes as of October 11, 2018.
David Daniel Kabbaz, who is also known as David Daniel Kabbaz Chiver, is one of the founders of Grupo Danhos.  He also serves as the Chairman of Fibra Danhos' Technical Committee as of October 11, 2018, according to the Fibra Danhos website. His daughter, Elvira Daniel Kabbaz, was confirmed as David's alternate as Technical Committee chairman on March 15, 2018.
Jose Antonio Chedraui Obeso is an independent member of the company's Technical Committee, as well as the audit, nominations, and practices committees, according to Fibra Danhos' website as of October 11, 2018.
ChedrauiLeaks has previously profiled David Daniel Kabbaz Chiver's various connections to luxury real estate in the United States. In 1981, David Daniel Kabbaz signed a declaration as the president of Festival Financial N.V., a Netherland Antilles corporation.  In 1978, Festival Financial bought a condo at 1750 Avenida del Mundo in Coronado, California. In 1980, David Daniel Kabbaz and his wife bought a unit in the same building.  In 1982 they granted title to the unit to Festival Financial N.V. Festival Financial later sold both units: one in 1989 for $240,000, and the other for $650,000 in 1996.
Documents:
ChedrauiLeaks.org has noticed that the media in Mexico contains very little information about the business dealings and personal assets in the United States of what could be termed Mexican elites, wealthy business people and politicians. ChedrauiLeaks is not stating that members of the Chedraui family or its businesses had any involvement with this condo unit.